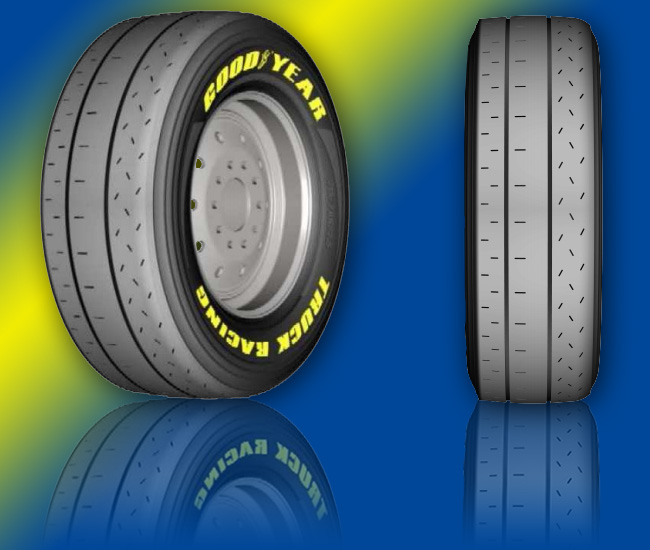 GOODYEAR 315/70 R 22.5 TRUCK
GOODYEAR 315/70 R 22.5 TRUCK
Price as of February 16, 2023 per unit (piece): €445 excluding VAT – €516.20 including VAT (Luxembourg VAT: 16%)
RFID equipment in the form of an integrated chip facilitates the implementation of the controls required by the FIA.
– The Goodyear Truck Racing design features an asymmetrical profile and pattern.
– The characteristics of this design have been defined in order to obtain the best pressure distribution in contact with the ground, the best mechanical resistance and the best performance.
– The rounded shoulder is in an external position on the front axis, and has a design that promotes lateral grip in the presence of dust or humidity.
– The square shoulder reinforces the stability of the whole and features a design
optimizing traction and braking.
– The grooves have a total depth of 5.1mm, and include wear indicators at a depth of 3.5mm.
– The depth of usable rubber is therefore 3.5 mm, and the constitution and geometry of the tread allow re-cutting of the design in complete safety down to the depth of the bottom of the grooves.
– The percentage of openness of the design in relation to the total area of the contact area with the ground is 11%.
After receiving your order, we will send you the invoice. This is payable only by bank transfer before delivery on the chosen circuit.
TRO bank details:
Kreissparkasse Köln Neumarkt 18-24 50667 Köln Germany IBAN: DE91 3705 0299 0000 6524 58 BIC: COKSDE33XXX TRO VAT: LU24705984

To know
The distribution of all Racing Goodyear tires is carried out by TRO. All teams must order tires 15 days in advance on the official TRO website. They will receive an invoice by email and they will have to pay the tires in advance to the Truck Race Organization bank account.
The price of the tire is the same for everyone, 445 euros excluding taxes on February 16, 2023. Teams holding an intra-community VAT number will buy excluding taxes and must sign a certificate that the tires will be used outside Luxembourg territory. Teams that do not have an intra-community VAT number will buy the tires with Luxembourg VAT (16%), i.e. 516.20 euros including tax.
The teams that have paid their invoice will receive by post or on site the number of exchange vouchers corresponding to the number of tires paid for in advance. The tires will be transported, stored, taken to the circuits by TRO. The tires will be mounted on rims on the circuits by TRO personnel.
Please note that tires can only be collected at the circuits in exchange for a voucher previously purchased from TRO.