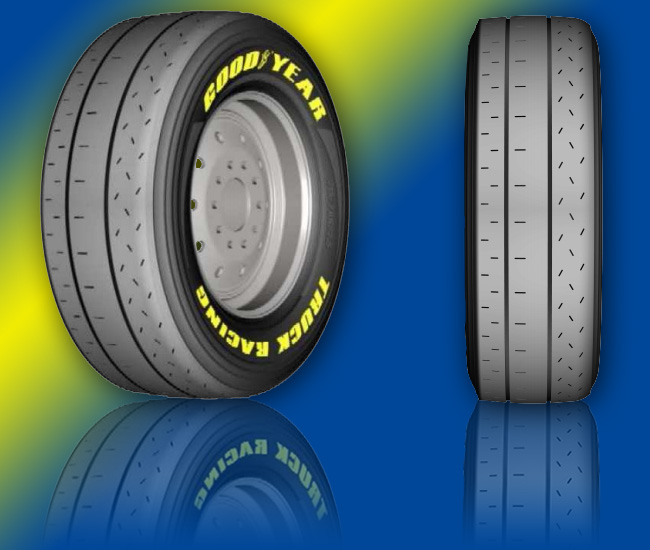 GOODYEAR 315/70 R 22.5 TRUCK
Price for one tyre (February, 16 2023): 445 € VAT free – 520,65 € with VAT ( Luxembourg: 17%)  RFID equipment as a chip is to facilitate the implementation of controls required by the FIA. – The design of Goodyear Truck Racing has a profile and an asymmetrical design. – The characteristics of this design have been defined to obtain the best pressure distribution in contact with the ground, the best strength and better performance. – The rounded shoulder is in position on the front axe, and includes a drawing adhesion promoting side in the presence of dust or moisture. – The square shoulder enhances stability of the assembly and includes a drawing maximizing traction and braking. – The grooves have a total depth of 5.1mm, and have wear indicators at a depth of 3.5mm. – The depth of rubber used is 3.5 mm, and the constitution and geometry of the tread allow resizing of the drawing safely to the bottom depth of the grooves. – The percentage of openness of the design compared to the total surface area of contact with the ground is 11%.
After receiving your order, we will send you the invoice. This is payable only by bank transfer before delivery on the chosen circuit.
TRO bank details:
Kreissparkasse Köln Neumarkt 18-24 50667 Köln Germany IBAN: DE91 3705 0299 0000 6524 58 BIC: COKSDE33XXX TRO VAT: LU24705984

To know
The distribution of all Goodyear racing tyres is done by TRO. All teams have to order the tyres 2 weeks before the event. They will receive an invoice and they have to pay by bank transfer the tyres in advance on the Truck Race Organisation bank account. The price of the tyre is the same for everyone, 445 euros without VAT (February, 16 2023). The teams who have a VAT tax number must sign one attestation which states that the tyres will be used outside the territory of Luxembourg. The teams who haven't EU VAT number buy tyres with the Luxembourg VAT (17%), 520,65 euros with VAT. The teams who have paid their bills will receive via mail or on the circuits the number of vouchers which corresponds to the number of the paid tires in advance. The tires will be stored and transported to the circuits by TRO. All tyres will be mounted on rims on the tracks by the TRO staff. Please note, tyres can be collected at the circuit only in exchange by a previously purchased vouchers from TRO.